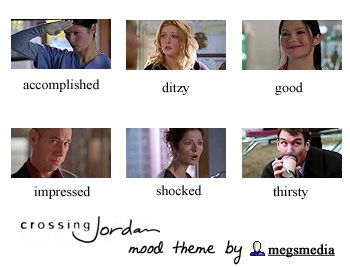 Download.



Even though I don't have a paid journal of my own I made a Crossing Jordan mood theme for those who do.

If you need instructions on how to install and such
call_me_daisy has some useful information here.

- 132 mood images 100x50
- 561Kb Zip file
- Most caps used are by
butterbuns. Others are from Google searches and my own collection I have acquired over time.
- Please comment if you take it because I like to know that people are using it and that everything is working properly (I'm trying a new file hosting site).
- Please credit me,
megsmedia,in your user info.